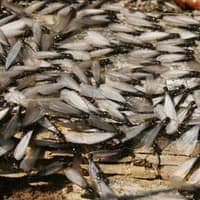 Termite Control In Kansas
2/27/2015
With the approach of spring, it is more important than ever for you to revisit the idea of termite protection. Don't wait till swarmers pour out of your walls, revealing a secret infestation. With billions of dollars in property damage linked to termites each year in the United States, you need to know what you're up against. These wood eating insects can crawl into your walls and secretly eat the support beams of your home for years, without detection. Why let that happen, when stopping them is so easy?
Schendel has been protecting homes from pests since 1947. You don't stay in business that long without knowing how to stay current on what works. When Schendel learned about the Sentricon® Termite Colony Elimination System, we were blown away. This termite bait system allows us to detect subterranean termites–the most destructive termite in the United States–before it does damage to a home or business. Not after. It can also destroy a termite colony at its core, by sending poisoned bait back with termite workers to kill the queen. Without the queen, the colony cannot survive. This is an amazing, eco-friendly way to fully eradicate termites.
The process of protecting your property starts with an inspection. Certified specialists from Schendel inspect your home for termite infestation. When they're finished, they discuss the results with you, and outline a termite treatment plan specific to your needs.
If you have termites, they will stop them immediately. This process varies, depending on the size and severity of your infestation, but you can rest assured that Schendel has the tools and knowledge to arrest the damage being done.
Once the current infestation is gone, Schendel will take care of those termite workers that are still foraging around your property. With the Sentricon System you can know that those workers and that colony will be thoroughly destroyed.
Then, our termite exterminators will monitor your home, and protect it from future termite invaders. Termite swarmers don't generally travel far. If they targeted you once, that means they are nearby in a tree, a hole, or a neighbor's house. Schendel will use monitoring stations to make sure you home is safe.
Now, here is the important part. Schendel will cover the repair costs of any new termite damage that occurs 90 days or more from the initial treatment. If you need Kansas termite control, don't go anywhere else. Schendel Pest Services has you covered.